About SABO FOAM
SABO FOAM has become one of the market leaders in firefighting foam concentrates, thanks to the strong technical know-how and large investments aimed at creating a top quality company which enjoys success, both nationally and internationally.
SABO FOAM is a specialized foam concentrates company that goes beyond its traditions by owning, controlling and managing a legacy of unique knowledge, which is based on extensive experience acquired over years of direct activity in the field. With major investment in 2016 of a new facility in Milan, SABO FOAM is able to invest more into foam research and manufacturing.
Thanks to our extensive experience and careful choice of first class suppliers and raw materials, SABO FOAM today boasts a world-leading production capability for the manufacture of a full range of fire fighting foam concentrates. The flexibility of having multiple products always in stock coupled with a flexible batch manufacture process means SABO FOAM is able to satisfy customers demand with prompt deliveries on a daily basis.

Application and Environments
Our products are suitable for a range of applications and environments such as:
Petrochemical plants
Refineries
Tank farms
Jetties
LNG facilities
Offshore platforms
FPSOs
Airports
Helistations
Marine vessels
Industrial plants
Warehouses
Military land base & naval applications
Powerplants
Civil Defense & Municipal Fire Services
Training centres
Environment &Technology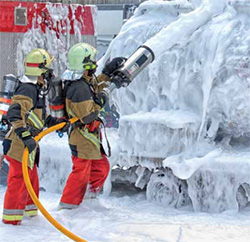 SABO FOAM has always demonstrated concern for the environment. Our Research and Design philosophy is to focus on developing products based on biodegradable raw materials with an extremely low environmental impact. Furthermore, we take steps to ensure that the processes and actions we undertake in running our business have minimal impact on the world around us.
Experience, research and innovation are the foundations of SABO FOAM's capabilities. SABO FOAM's production includes a complete line of fire fighting foam concentrates that meet the demands of a variety of customers: naval, industrial, civil and military.
Service
We take care of our customers from the outset, analysing each enquiry in detail so that the technical, logistical, marketing and commercial aspects are, in every instance, tailored to your precise requirements. Once the way ahead has been agreed, we're committed to getting on with the job, with prompt manufacturing and delivery.
Our ability to do this depends to a large extent on the skill of our technical staff, comprising of a highly qualified team, dedicated to providing every customer with the information they need on types of concentrates, storage procedures and the steps to take in case of fire. Choosing SABO FOAM products means connecting with a network of true specialists. Between them, they provide a single source solution for firefighting foams.